Bridge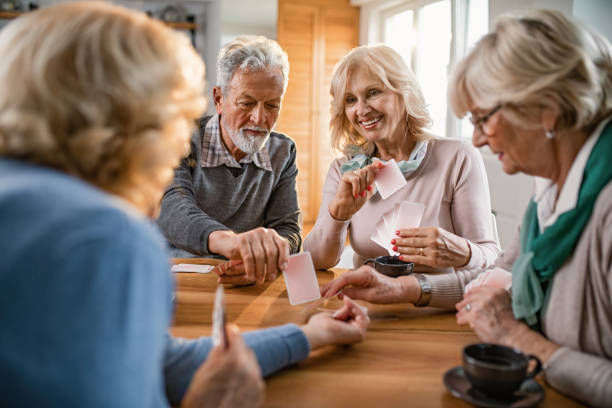 Drop-in Bridge- Monday Evening at 6:30 pm.  You may come with a partner and play with that partner all evening or come alone and we will pair you with another player.  Most players are beginners to intermediate.  The facilitator is Grant Good.  The cost is $2.00 This program is on hold for the Summer and should resume in September. Watch for the Weekly Update and calendar.
Drop-In Bridge- Friday Afternoon at 1:00 pm.  There is no partner required.  Extra players will be worked into rotation if on hand at the start of the session.  Players move from table to table after four hands changing partners.  Players should be familiar with common bridge conventions.  Play continues all year.  The cost is $2.00 each Friday.
The facilitator is Steve Turner.
Beginner Bridge Lessons
These are offered when interest is raised, and lessons can be arranged. They usually take place over an 8-week period. Watch for announcements in the Weekly Update, Website, and Facebook.
Board Games 
Thursday afternoons at 1:30 pm. Drop-in with your favorite game or pick one from our selection. New players are always welcome.  No cost
Cards 
The players gather on Friday afternoons at 1:30 and then decide what they will play- Cribbage, Euchre, or some other card game. No cost.
Summer Games 
These games include Bocce Ball, Ladder Ball, Washer Toss and Bean Bag Toss. Everyone is welcome. No previous experience is required. It's about getting together and enjoying the companionship and the outdoors. No cost.
Watch the July and August calendars and Updates for more information.
Darts
Every Monday at 1:30 pm. Bring your own darts. New players are always welcome.  We learn from one another.  No cost.
Canasta
Newly begun group of players who meet on Thursday at 1:30. It is an opportunity to learn and play. Open to additional players. No cost.
Facilitator is Vikki Sears
Contact the Centre at: steppingstoneseniorcentre@rogers.com.